Sustainable shirts for women
Sustainable fashion is much more than a passing trend, it is a change in the way of consumption in which we try to value the quality and versatility of fabrics and garments, as well as betting on timeless designs so that they last longer, can be used more and there is an option to recycle. 
The aim is to promote the circular economy without renouncing to design and creativity through beautiful and simple garments such as shirts, blouses, dresses, skirts, jackets, a whole collection of clothes with its own style and a positive impact on the environment. One of the most interesting garments for its versatility and wearability are the sustainable shirts for women, a type of clothes that cannot be missing in our wardrobe.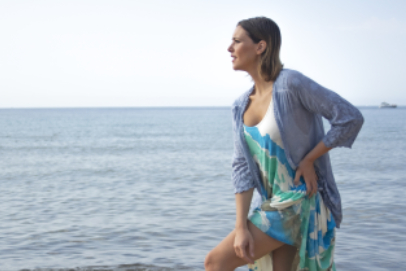 Women's blouses and shirts for a more sustainable fashion
Blouses and shirts are comfortable and ideal garments for all kinds of outfits, from the most casual to the most elegant and sophisticated. They are basic in any woman's wardrobe and what better if you choose sustainable designs. 
In order to achieve sustainable and organic shirts, it is necessary to comply with a series of standards such as the use of fabrics with a view to both reducing the negative impact and having a positive impact. Likewise, it is about avoiding fabric waste by studying the design and composition of patterns in detail, also trying to opt for timeless designs.
To change your wardrobe in a sustainable way, it is important to break with the traditional way of consuming, the classic "use and throw away", to reorganise spaces with more versatile, comfortable clothes made with more respectful materials such as organic cotton or recycled fabrics. A fashion that is not at odds with prices, design and originality.
Moolberry, your sustainable fashion clothes shop
One of the fashion brands that offer beautiful, comfortable, delicate and sustainable fashion for real women is our sustainable clothing brand, Moolberry. A sustainable clothing shop at low cost prices where you will find new clothes every week following a sustainable and ecological philosophy.
Moolberry is the only fashion brand in the world with the ISSOP seal for its commitment to the environment. Our consumer philosophy brings us closer to a fashion that encourages the user to get involved in recycling and creating their own clothes, as well as educating in values and being an active part of this change of priorities when buying clothes. 
If you want to combine the way you dress with responsible and sustainable consumption, don't hesitate and give your wardrobe a new look with our Moolberry clothing collection. A commitment to romantic, modern and fashionable looks with cotton or knitted fabrics as protagonists, as well as colours that will make you feel unique. Be part of the commitment to a present and a future that respects the environment, but without giving up style.