Discover our history and background
Moolberry is part of the Koker group, which understands fashion as a sustainable global concept, adapted to a modern, strong and independent woman who wears high-quality, fashionable clothes. The idea is to offer groundbreaking weekly collections made in Europe, which are within the reach of any pocket. At Moolberry we are committed to sustainable clothing to increase its lifespan and we are up to date in terms of sustainability and circular economy, something new of great importance that aims to carve a niche in the fashion industry.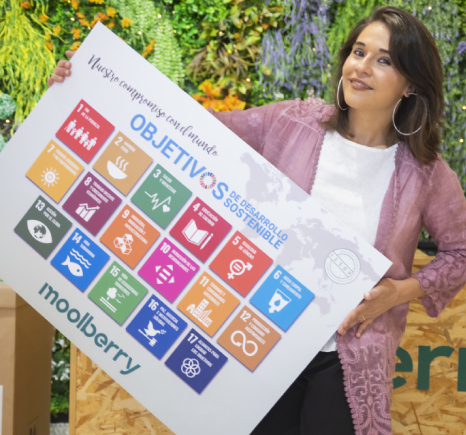 Priscilla Ramirez, our designer
Priscilla Ramírez is our founder and together with her we have come a long way since the first shop opened its doors in Toledo in 2014. Since then we have not only increased the number of Moolberry shops, but we have also committed to sustainability to create women's fashion that stands out for its attractive design, quality and affordable price. Our business model has evolved and our suppliers, logistics department and the product itself are all part of our zero waste policy and care for the environment. Our commitment is evident through the ISSOP seal, with reinforcement measures aimed at building a textile industry that is more respectful and responsible with the environment that surrounds it.
A life dedicated to sustainability
Care for the environment has been on the rise and the search for eco-friendly products is increasing. Moolberry has dedicated its life to fulfilling the desires of the new consumer. The user wants to know what is behind each production process, which is why we are dedicated to the process of adapting brands to the new sustainable environment demanded by today's customer. In this way, the consumer is setting new trends and Moolberry wants to be part of the process. People have become aware of climate change and companies are thinking about creating sustainable strategies to contribute to the care of the environment. At this point, Moolberry is very clear about what is sustainable and what is not. It has been committed to change for a long time and its awareness of sustainability is making a deep impression on its customers. Thus, sustainable development will be setting trends in the world of marketing in the coming years, something for which our company is already prepared.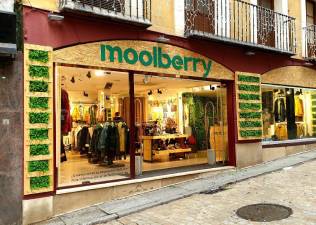 Moolberry, for a more sustainable industry
Our customers are part of our philosophy: quality and sustainable fashion at a reduced price. We know what they want and our aim is to deliver it to them as quickly as possible, taking into account their needs and taste for detail. We have a real passion for technology, which drives us to keep looking for the most efficient way to meet our sustainable commitments. In addition, our customers are demanding and our company has to live up to them. We listen to their suggestions and run short production runs to innovate on a weekly basis, always keeping their preferences in mind. Our state-of-the-art technology, manufacturers and suppliers help us to source Moolberry responsibly and sustainably. We also ensure that our shops are located on tourist and shopping streets, with carefully curated spaces so that aesthetics, design and functionality are part of a whole. Our strict code of conduct demands high standards and our garments are made from sustainable raw materials to meet a practical and efficient life cycle. We are highly committed to a sustainable fashion industry with a contemporary and dynamic aesthetic - you will love our collections!